Issue 3rd January 2022: Roald Amundsen 150 years
Roald Amundsen was a Norwegian polar explorer who led the first expedition to reach the South Pole. 
In 1903 he started an expedition with the boat Gjøa, and he reached the magnetic north pole with this boat. He thus became the first person to sail through the Northwest Passage with the same ship. Amundsen also studied the Inuit lifestyle in Gjøahavn on King William Island, north of the Canadian mainland. This turned out to be one of the most important outcomes of the expedition, since the Inuits had not yet been influenced by other cultures.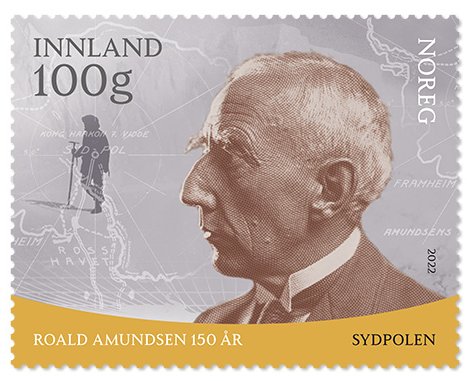 In 1910 he sailed to Antarctica with the polar ship Fram. It was with this ship that he took on the expedition to the South Pole. Together with four other expedition members, he became the first to reach the South Pole on 14 December 1911 – five weeks before his rival Robert F. Scott. The scientific results were not very impressive; it was the conquest of the South Pole that was the ultimate goal.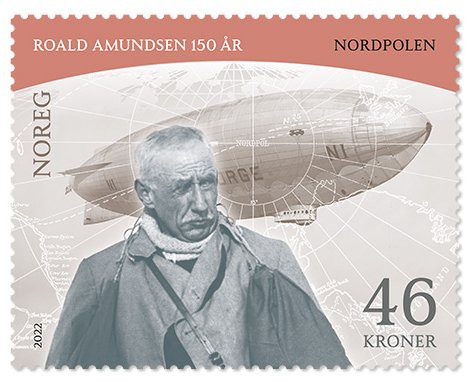 His victory in the race to the South Pole gave Amundsen the recognition he needed to be able to pursue the activity that was closest to his heart, namely the exploration of the unknown parts of the Arctic. Based on his experiences from the first part of the Maud expedition, Amundsen understood that the unexplored inner areas of the Arctic had to be explored from the air.
In 1926, he flew with Lincoln Ellsworth over the North Pole in the Italian-built airship Norge piloted by Umberto Nobile. Amundsen died in 1928 close to Bjørnøya while searching for Nobile's failed expedition.

Facts
NK 2067-2068
Motif: Roald Amundsen at the South Pole and the North Pole
Design: Magnus Rakeng
Photo: National Museum/Commons, Fram Museum
Denomination: NOK 28 (Domestic 100 g) – NOK 46
Issued in: Sheet of 50 stamps
Print run: NOK 28.00 (Domestic 100 g): 545,000 stamps | NOK 46.00: 345,000 stamps
Print: Offset from Joh. Enschedé Security Print, The Netherlands