Issue 2nd October 2021: Mopeds and Motorcycles
The first motorcycle to be manufactured in Norway was built in 1903 by Oscar Engstrøm. Although this was probably the only motorcycle he made, the "Engstrøm" must be regarded as the first motorcycle to have been produced in Norway.
Atlanta
In 1926, the engineer Carl Bendtsen presented a prototype of a motorcycle that was composed of parts from England. If featured a 500 cc engine and was advertised as "the first motorcycle to be made here in Norway – the Norwegian Atlanta Motorcycle!". In the 1920s, the market was dominated by the large American motorcycles, but Bendtsen wanted to make smaller and lighter motorcycles.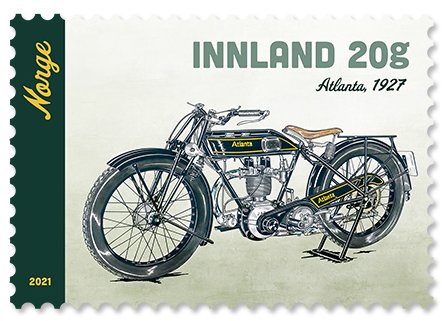 Mustad scooter
Bjarne Christensen and Johan Mustad wanted to build a folding scooter that people could take on trains or put in the car boot. Even though their "folk scooter" had a small engine and a modest top speed of 40 km/h, the authorities required it to be registered, and the scooter was equipped with additional features that made it far heavier and larger than originally planned.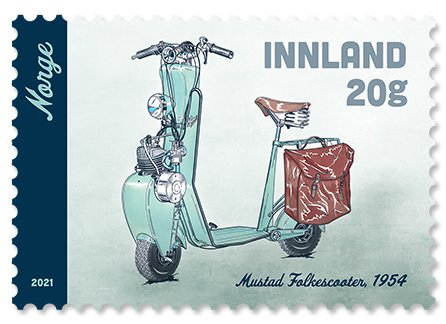 Raufoss
The first Raufoss moped made its appearance on the market in the summer of 1958 and production continued until 1962. After 1962, mopeds were assembled from surplus parts and the Raufoss moped was delivered right up until 1965. In the period 1958 to 1965, some 6,500 Raufoss mopeds were produced.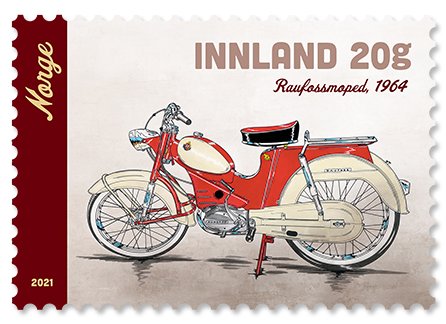 Tempo Corvette
Jonas B. Øglænd AS in Sandnes began producing mopeds in 1931. The most popular model was undoubtedly the Corvette, which appeared in 1960 and was manufactured for almost two decades until 1979. The production of mopeds continued in Norway until 1987, when the production equipment was sold to Portugal.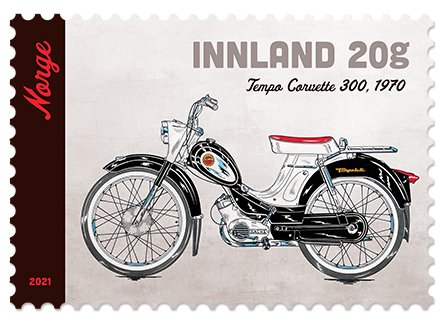 Facts
Number: NK 2060-2063
Motif: Atlanta motorcycle, Mustad scooter,
Raufoss moped, Tempo Corvette moped
Illustrations: Erland Dilling
Design: Camilla Kvien Jensen
Denomination: NOK 18 x 4 (Domestic 20 grams)
Issued in: Roll of 100 stamps (25 of each motif)
Print run: 550,000 of each stamps
Print: Offset from Joh. Enschedé Security Print, The Netherlands