How to wrap small and bigger packages
Proper wrapping is essential to ensure that your package reach its destination in one piece.
A shipment is reloaded several times before reaching its destination. The wrapping must therefore be solid.
Outer and inner wrapping must be adjusted by the content. Proper wrapping is the key to lower the risk of damage and delays and is also a essential for claiming compensation in case of damage.
As the sender you are responsible for proper wrapping and that the content is legal to ship.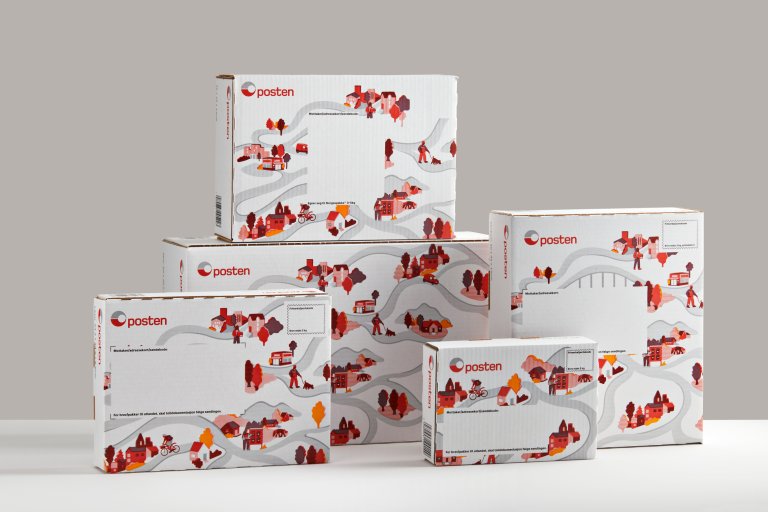 Recommended outer packaging
Use strong envelopes or boxes of cardboard, plastic or wood as outer packaging. Heavy content requires stiff and solid outer packaging. Fill the empty space so that the content is stable and firmly in place.
Boxes and bubble envelopes can be purchased at Posten's points of sale. Especially fragile items need a stiff outer packaging.
The boxes are available in four different sizes:
Mini 24 x 15,9 x 6 cm
Small 35 x 25 x 7 cm
Big 50 x 30 x 20 cm
Box Norgespakke™ 0-5 kg 35 x 25 x 12 cm
You can also buy boxes in our webshop (in Norwegian only).
Recommended inner packaging
Fragile items must be surrounded by cushioning material, so that this can capture the pressure and shock.
You can use:
Corrugated cardboard
Bubble wrap
Crumpled newspapers
Wood wool or other material
Liquid content or powder be wrapped particularly well. Content must be filled in sealed containers of metal, glass or plastic, and tightly closed. Containers must on all sides be surrounded by absorbing and cushioning material that can absorb any moisture.
Soft content must have an inner protective cover. Use multiple layers of corrugated cardboard or strong paper laid tightly around the content.
Live animals (beetles, leeches and silkworms) must be packaged by The Animal Protection Act.
Separate rules apply to contents of biologicals.
Please note that books, papers and documents often is heavier than you think. If envelopes are used for packaging, they must be either padded or have wire reinforcement. Is the content heavy, it should be bundled and placed in a box.
Things that can withstand it, may exceptionally be received without packaging. An additional surcharge must be expected.