Issue 23 April 2021: Dovre Railway Line Centenary
The Dovrebanen train journey takes you through some of Norway's most stunning mountainous landscapes and natural scenery.
The Dovre railway line opened in 1921 and runs between Eidsvoll, north of Oslo, and the city of Trondheim on the west coast. Just as construction was getting under way on Norway's oldest railway line, the Trunk line, between Oslo and Eidsvoll, a letter was published in the Morgenbladet newspaper suggesting that the line be continued through Gudbrandsdalen, over Dovre and on to Trondheim. Although the proposal was initially dismissed as absolutely unthinkable, it was put forward again during the planning phase for the main north-south line.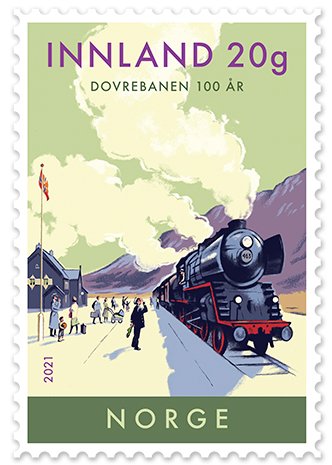 Originally, the Dovre line only covered the stretch between Dombås and Støren, which was opened under dramatic circumstances. On the night of 19th September 1921, there was a serious accident on the line at Nidareid in Trondheim. A northbound train from Støren ran through the passing loop at Marienborg without stopping, and collided with a larger extra train that was carrying guests who had attended the inauguration of the Dovre line earlier that day.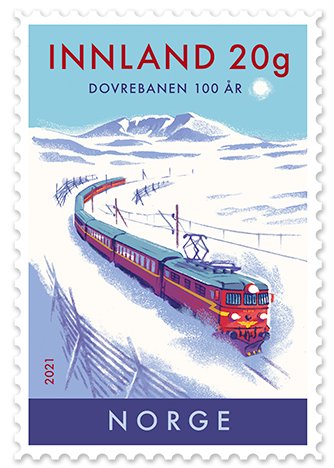 Connecting with the Gardermoen line, the Dovre line runs from Oslo via Hamar and Lillehammer over the breathtaking Dovre mountains to Trondheim. The entire journey from Oslo to Trondheim is 548 kilometres long and takes approximately seven hours with frequent departures throughout the day. The train also runs as an overnight service with sleeping carriages. Passengers can alight at Dombås station to catch a train to Åndalsnes on the Rauma railway line.
The Dovre line is thought to be the busiest and most profitable in the railway network today.

Facts
23.04.2021
NK 2051-2052
Motifs: Steam Locomotive "Dovregubben", Train at Dovrefjell
Illustrations: Trond Bredesen
Design: Camilla Kvien Jensen
Denomination: NOK 18 (domestic 20 grams) x2
Issued in: Booklet of 10 stamps (5 if each motif) and Prestige Booklet
Print: Offset from Joh. Enschedé Security Print, The Netherlands