Issue 5th November 2021: Christmas stamps
Lisa Aisato's Christmas Universe.
The illustrations of the award-winning illustrator and author of children's books, Lisa Aisato, often have a distinct narrative.
"I don't always know where the ideas come from, but no doubt I often draw on my own life and experiences for what I do. When I was working on the Christmas stamps, I remembered a dog I had when I was a child, which used to leap around in the snow. And I was always totally fascinated by shining Christmas baubles," she says.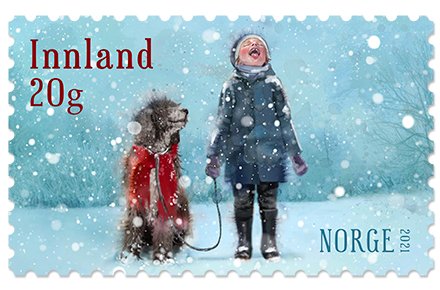 Some of the magic of Christmas time disappeared for Lisa Aisato when she was in her twenties, but returned in full force when her own children came along. "I'm not religious, but I do think the world sort of slows down on Christmas Eve. Of course, there is a lot of hustle and bustle leading up to it, but maybe the stress is also what creates the decisive contrast. When Christmas dinner is over and peace descends, there is nothing else waiting to be done," she continues.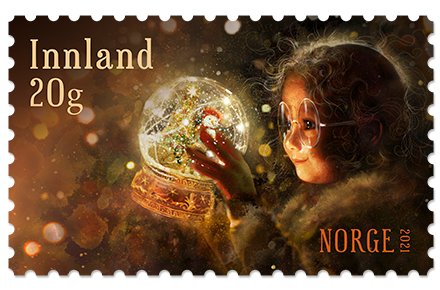 Working on the Christmas stamps has reawakened the positive feelings associated with Christmas that Lisa Aisato experienced in her childhood, and reminds her of the joy she feels at Christmas with her own children.
Merry Christmas!

Facts
Date: 05.11.2021
Number: NK 2065-2066
Motif: Boy with dog, girl with snow globe
Illustrations: Lisa Aisato
Design: Camilla Kvien Jensen
Denomination: NOK 18 x2 (domestic 20 grams)
Issued in: Booklet of 10 stamps
Print run: 1,850.000 of each stamp
Print: Offset from Joh. Enschedé Security Print, The Netherlands