Issue 17th January 2022 Norway Post 375 Years
In 1642, Governor Hannibal Sehested received an order from the Danish-Norwegian King Christian IV to organise a postal service between Copenhagen and Oslo. The result was Postverket, which was established on 17 January 1647.
Sending a letter at the time was complicated, and postage was calculated by the distance and weight and could be paid in advance or by the recipient. In 1855, we received Norway's first stamp, and unit postage was introduced for the entire country.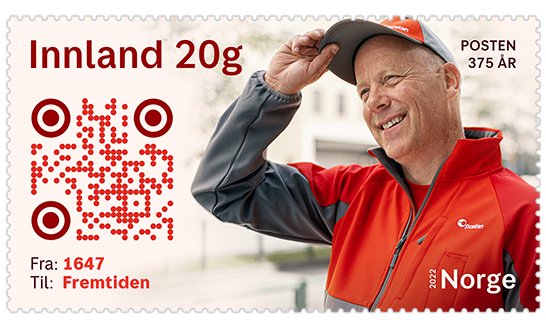 Norway Post has always been an early adopter of innovations. From 1827, Norway's first steamship, DS "Constitutionen", carried post, and when Norway's first stretch of rail opened in 1854, the transport of post was an important part of the assignment. In 1920 Norway's first official air route opened – and Norway Post was there. As customers' usage patterns changed, there was less need for individual post offices, and in 2001 the first in-store post office was established. In 2011 Norway Post launched Digipost, a digital mailbox for secure communication.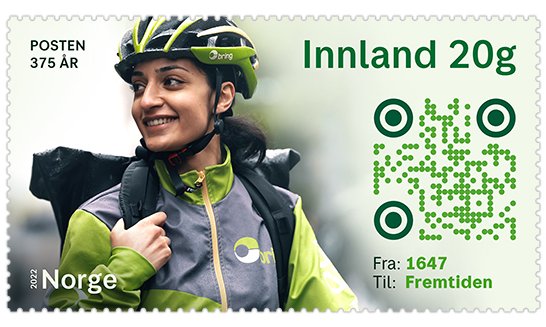 The Group has set itself the goal of being the greenest logistics supplier in the market and has taken the lead by beginning to use more environmentally smart vehicles. Innovation is crucial for Norway Post to be able to offer good services in the future, and in both 2020 and 2021 Norway Post was named one of Norway's most innovative companies. Norway Post's vision is to make everyday life simpler and the world smaller. Even in the future.
Facts
NK 2069-2070
Motif: Postman and Bring postman on bike
Design: Camilla Kvien Jensen
Photo: Aksel Jermstad / byAksel
Denomination: Kr 19 (domestic 20 g) x 2
Issued in: Booklet of 10 stamps
Print run: 570 000 of each stamps
Print: Offset from Joh. Enschedé Security Print, The Netherlands