List of exceptions for special parcels
Insects
Igles, bees and silk worms can be sent. Parasites as well as flies of the Drosophilidae family can also be sent, but only between approved institutions.
Weapon
If you want to send weapons domestically, the weapon must be secured in such a way that it cannot be used, cf. regulations on firearms and ammunition.
This means that a vital part must be removed from the weapon and this must be sent separately.
As a transmitter of weapons, you must know the weapons law and how a weapon should be secured during transport.
Lithium batteries
Lithium batteries are used in many items of electronic equipment, such as PCs, mobile phones, cameras, laser gauges, shavers, etc.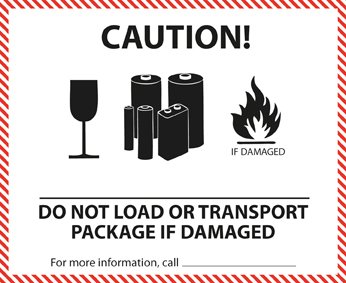 Lithium batteries/cells are accepted in domestic airmail parcels on the following conditions:
Batteries must be installed in the equipment in which they are intended to be used. Sending loose batteries is not permitted
There is a limit of two lithium batteries/four lithium cells (a battery may comprise a number of cells) in any one parcel
The total lithium content must not exceed 2 g for metal/alloy batteries. For ion batteries, the energy capacity must not exceed 100 Wh. The battery capacity must be stated on the outer packaging.
The lithium content must not exceed 1 g for metal/alloy cells. For ion cells, the energy capacity must not exceed 20 Wh.
The parcel must be packaged in appropriate packaging in accordance with ICAO's packaging instructions 967 and 970. There must be compliance with the packaging provisions and labelling requirements.
Parcels containing a maximum of 2 batteries/4 cells do not have to have labelling other than that specified above.
International testing requirements must be met.
Batteries must be well protected against damage and short-circuiting
Under no circumstances may damaged or defective batteries be forwarded.
The same conditions apply to overseas airmail parcels, but some countries have opted out of receiving parcels containing lithium. Find out what you are allowed to send to individual countries.
If you need to transport lithium batteries involving more than 2 batteries/4 cells installed in equipment, or lithium batteries that are not installed in equipment, please contact Customer Service on tel. 22 03 00 00.
Biological material – UN3373, category B
The Norwegian Directorate for Civil Protection has also compiled a useful and simplified guide to biological material in Norwegian (in revision now). This includes detailed requirements relating to packaging and labelling for UN3373, category B.
Link to guidelines in Norwegian.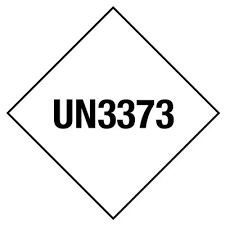 The maximum volume per item is 4 litres/kg in total, with a maximum of 1 litre/kg per inner container. The fastest possible forwarding is recommended. Air transport is permitted nationally, and also internationally if the postal service company in the receiving country accepts such contents.
Dry ice – UN1845
Due to the regulations of the various commercial airlines in Norway, we can no longer offer the transmission of packages containing dry ice on the services Bedriftspakke Ekspress Overnight or Express Overnight Cash. This prohibition also applies if dry ice is intended to be used as refrigerant for biological material UN3373.
Wet cargo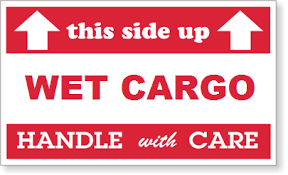 An agreement must be concluded between the customer and Norway Post concerning the transportation of wet cargo by air.
The provisions and an agreement template can be found here: Download and print PDF.
Radioactive material – UN2908, UN2909, UN2910, UN2911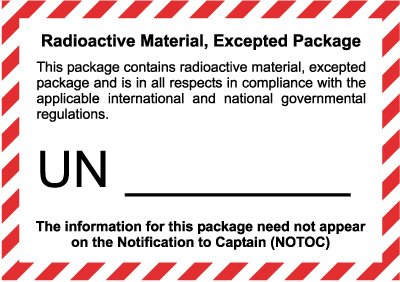 We only accept UN2908-2911 from authorised senders. Volumes and packaging must be in accordance with the provisions of the International Atomic Energy Agency, IAEA; cf. the provisions of the Universal Postal Convention. The parcel must be labelled with a separate label, and the correct UN number must be stated on the label. The name and address of the sender must be indicated on the cover. The fastest possible redirection is recommended. Approved for air transport nationally, and also internationally if the postal service company in the receiving country accepts such contents.
Fire extinguishers – UN1044
Fire extinguishers UN1044 containing compressed or liquid gas will be received as parcels for transport by road/rail if they have been produced and filled in compliance with applicable provisions in the country of production.
They must be equipped with protection to prevent accidental discharge and be packaged in robust external packaging. Fire extinguishers UN1044 are not subject to the ADR provisions if the requirements specified here are met.
Magnets/magnetic materials transported by air
Magnets/magnetic materials packaged for transport by air must not have a magnetic strength that may cause compass deflection by more than 2 degrees at a distance of 2.1 m from any point on the surface of the package/item. ICAO's packaging instructions 953 are applicable.